#find an apartment
#
The Best Way to Find Apartments for Rent in Los Angeles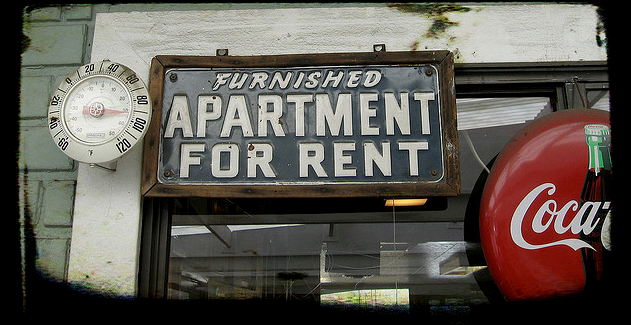 Finding apartments for rent in los angeles isn't nearly as difficult as it's made out to be by some of the city's more frustrated residents. If you're new to the area or you simply want to relocate to another part of the city, there are several tried and tested of the best ways to find an apartment for rent in Los Angeles you'll want to follow. All you'll need is a bit of patience, pluck, and the ability to sweet talk your way into another's favor (well, mostly the first two. mostly).
Cruising the Neighborhoods
Let's face it: apartments come in all shapes, sizes, conditions, prices, etc. and you can probably find what you're looking for (or something close to it) without ever setting foot outside of your home with the help of the Internet. That being said, there's really no substitute for getting a personal and hands-on feel of not just the apartment, but of the building and neighborhood you are considering renting. As such, the best way to find the right apartment is to lace up your favorite pair of sneakers, smear on the sun block, and start cruising the neighborhoods you're interested in on foot. (Hint: you don't have to walk there. Driving is totally fine, just don't do all your cruising from behind the wheel).
As you walk around the neighborhoods and areas you are looking to rent in, keep your eyes peeled for telltale signs of what the neighborhood is like. For example, are there a lot of 'For Rent' signs in the area?  If there's one posted outside every building you pass, you may want to wonder why there are so many vacancies. If you happen to spot someone who obviously lives in the neighborhood, you might want to strike up a conversation about what their experience living there has been like. Ask for the good and the bad, especially if they've been in the area a long time.
Jot down the leasing company information or give them a call right away and inquire about the units that seem like viable options for you. Does the sign note the length of the lease? Does it indicate if the unit is furnished or not? Is there a move-in special for new tenants? Is there a pet policy listed? And what about its proximity to major attractions, businesses, and freeways? Being thorough about all of these considerations and asking as many questions as possible is the best way to find an apartment for rent in Los Angeles.
Urbane Trains and Automobiles
Anyone who's ever parked anywhere in Los Angeles knows that parking spaces are a premium and that finding a spot you won't get ticketed or towed from is a godsend – honestly, sometimes you find a parking spot and you can almost see a golden halo hovering above in the air. Because of this, you'll want to make sure that the apartment you're renting comes with a parking space or has ample street parking readily available. The last thing you want to worry about as you're adjusting to your new surroundings is having to move your car every hour or two just to avoid getting ticketed (and believe us when we tell you that they will use any opportunity they can to ticket you). Most apartments without garage space for rent in Los Angeles allow for residents to purchase an annual street parking permit for around $40, which is an investment well worth making.
Parking isn't the only consideration you'll need to think of when it comes to your car. Los Angeles being the car culture capital of the nation, your commute to work will definitely have to factor in when looking for an apartment to rent. For example, if you work in Santa Monica or Century City but you happen to find the perfect apartment in Pasadena, you had better be prepared to spend upwards of an hour in traffic each way every day. If you don't fancy that kind of investment in your time and money (gas isn't cheap these days, lest you haven't noticed), you will probably want to rethink your move and continue your search for the right apartment to rent in Los Angeles. Your best bet might be to take the train – and yes, we have them in L.A. contrary to popular belief – which include the Gold Line, the Metrolink, and the Expo Line.
The Online Search
A good place to start your search for apartments to rent in Los Angeles is one of the many websites catering exclusively to renters that still haven't found the right place. Using one of these websites can be a good alternative because you may have missed a listing that you didn't notice while on foot or were simply unable to access in person. Many websites, including westsiderentals.com,  4rentinla.com, and apartmenthunterz.com  let you tailor your search to specific neighborhoods, price ranges, and lifestyles that are appealing to you. Few things make apartment hunting as easy and convenient as a tailored online search, which makes it one of the best ways to find an apartment to rent in Los Angeles. Think of it this way: what you don't burn in calories during a physical search you'll at least save in your sanity.